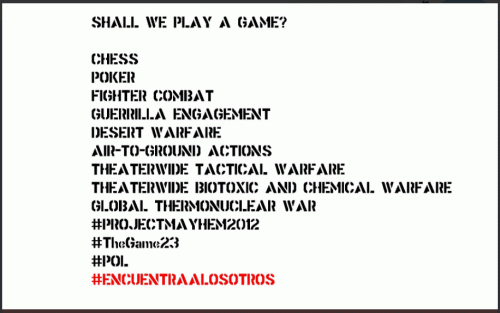 .
https://en.wikipedia.org/wiki/Operation_Mindfuck
http://discordia.wikia.com/wiki/Operation_Mindfuck
http://discordia.wikia.com/wiki/Thegame23
.
.
Octubre de 2014:
TheGame23 se ha definido como:
arte, anti-arte, pós-arte, humor, filosofia, absurdismo, `patafísica, erotismo, discordianismo, concordianismo, realismo, surrealismo, delirismo, lucidismo, qualquercoisaismo, cultura pop, cultura imp
#TheGame23, 28.000 vistas: http://pastebin.com/YbmG6ETq
#TheGame23 5.000 vistas: https://pastebin.com/3iKHcqcU
Twitter:
https://twitter.com/search?f=tweets&vertical=default&q=%23TheGame23&src=typd
What is TheGame23?:
http://discordia.wikia.com/wiki/Thegame23
Web: http://thegame23.com
http://discordia.wikia.com/wiki/Operation_Mindfuck
https://timoteopinto.wordpress.com/thegame23
Project 00AG9603
http://timoteopinto.wordpress.com/project-00ag9603-thegame23/ – #thegame23 level 5
http://partidointerestelar.wordpress.com/
Web:
https://timoteopinto.wordpress.com/thegame23/
https://timoteopinto.wordpress.com/thegame23/a-relationship-with-reality-as-mutually-creative-and-co-equal/
https://timoteopinto.wordpress.com/thegame23/creating-meta-narratives-as-a-hypersigil-within-a-larger-arg-scenario-for-personal-and-societal-transformation/
https://timoteopinto.wordpress.com/thegame23/futureculture-from-media-virus-hidden-agendas-in-popular-culture/
https://timoteopinto.wordpress.com/thegame23/hyperstition/
Twitter:
https://twitter.com/search?f=tweets&vertical=default&q=%23TheGame23&src=typd
.
.
The Alternate Reality Game Organization (ARGO) is a community service organization; exploring and helping others to explore the limits of the conscious control of physical reality through Alternate Reality Gaming. We use a combination of Gamification, Psychodrama, and Sociodrama in the context of a complex form of Synchromystic "Ritual Play" (see also: Play) to focus collective conscious will on the medium of multidimensional reality itself, altering subjective perception to influence, alter, and even override "objective reality". When properly implemented, Alternate Reality Gaming is related to reality while being awake, in much the same way Lucid Dreaming is related to being asleep.

We produce and participate in our own proprietary "sub-games" or "meta-games" as well as providing resources and assistance and help to administrate games designed and run by other game developers; especially those in the Alternate Reality Gaming Community. Active participation with ARGO typically takes the form of participation in one or more of our "sub-games", or "meta-games". If you would like to participate further, feel free to contact us directly.

The first step is to realize it is ALL a game,

the next step is entirely up to you…

Remember, you are already playing.

Play well, enjoy your game!

.
http://alternaterealitygame.org/
Foro: http://fnord.forumeiros.com/f28-thegame23
Facebook: https://www.facebook.com/thegame23.kstxi/app/190322544333196/
https://www.facebook.com/thegame23.kstxi/
https://www.facebook.com/groups/LinKaonia/
App para móviles: https://play.google.com/store/apps/details?id=com.AppDevStore.TheGAME23
Discord: https://discordapp.com/channels/286603043321937931/397418287350284308
Tumblr: https://www.tumblr.com/search/%23thegame23
.
.
#thegame23 

— Creating
meta-narratives as a
hypersigil
within a larger ARG scenario,
for personal and
societal transformation
Cinematic technique was used in ancient times in temples, (often using autonomous mechanical devices to provide seemingly miraculous results) and played a major role in many of the ancient mystery traditions. Immersive and interactive narratives and participatory experience has been used to create altered states of consciousness and altered experience of reality as far back as history can be traced and arguably into the animal kingdom where young animals often use play to develop skills and develop behaviors that can serve them later within the narrative structure of their pursuit of survival and of life itself. Some para-psychologist suggest the state of mind entered into when one is provided with input that is beyond comprehension or that confounds a currently held belief or limit, is a key to manifesting further results that can only be described as paranormal or "beyond the scope of normal scientific understanding". With this in mind we suggest that psychodrama dealing with the limits of understanding are both the controlling and creative forces that work on the population of humans as social creatures, and that understanding this mechanism of creation and control allows for the willful translation of reality.
Watching dramas playing out by proxy in a theater, arena, or coliseum, was understood to allow vast populations to be placated such that they could succumb to an otherwise boring, uneventful, and non-dramatic life while getting their emotional fix by voyeuristically watching others experiencing life and death dramatic conflict. "Give them bread and circuses" became the motto for keeping the masses entertained and for teaching them the virtues of loyalty and vices of courting dangerous and revolutionary ideas. This would go a long way toward retarding any uprisings or revolt against a system of containment that sought to utilize the masses as a mechanism working towards a broader centralized nationalistic or cultural goal.
Plays and drama as an art form eventually became the method even to provide subversive social commentary about politics, religion, and to experiment with virtues and vices of archetypal characteristics, and even to teach by example the power of certain cultural norms and taboos, providing a sort of programming template for the human population. As technology progressed and provided a means of recording these scripted performances, allowing for mass distribution and enhancing the ability to alter and use trickery to create illusions of reality, cinema became perhaps the popular and powerful medium for these narratives.
When people saw the first grainy and silent moving pictures, one of the first reported effects on an audience was to react as if the scenes on the film were real. There was a particular scene depicting an oncoming train and as this train approached the cameras vantage point, many in the theater ran away for fear of being struck by the oncoming train…
Before their exposure to this new medium, no one had seen anything like this and the results seemed like some strange magic… Man has since increasingly learned to distinguish what is real as well as to create psuedo-realities that wade through "the uncanny valley" on the verge of seeming real; or at any rate are real enough to create a visceral reaction or to suspend disbelief. Real enough so that if one so chooses, they can in effect lose themselves in the content being played out in front of them.
For roughly the last century, cinema has represented what is arguably the most highly evolved medium for presenting narratives, but cinema seems to be giving up ground in the same way print media and broadcast media are giving way to the more interactive format of social media and collective content curation… in this way games as interactive narratives, are quickly evolving into a whole new medium that can encourage audiences to become authors and spectators to become participants. Closing the circle so to speak and creating a "hyper-meta narrative" whose hero is the protagonist that becomes the author, the player that becomes the game designer.
The concept of "language games" was popularized by the philosopher Ludwig Wittgenstein as a way to understand the underpinnings of culture and the cultural motivations that sway the behaviors of any given member of said culture. Understanding the underlying game mechanics inherent in these language games and narratives that form the backdrop of our subconscious motivations can be a very empowering realization. Playing new language games by creating our own meta narratives where the individual acts as both the subject and the author or the player as well as the game designer can allow us the opportunity to override or "hack" the cultural conditioning and to become a mindful director of the application of will that both creates the narrative content of dreams, and plays out in the subconscious associations with your perceptions of the world as well as the emotions, reactions, and ultimately behavioral choices that form how you interact with the world around you. In short we create games that allow players to change their worlds and change themselves in accordance with their own values, and a means of understanding the cultural template without being constrained by it.
:::
Alternate Reality Game Organization (ARGO)
:::
:::
Project 00AG9603 — #thegame23 level 5
:::
#thegame23

–
Countercultural ´Pataphysics
"Media culture enthusiasts like "Bill Me Tuesday," a hacker from Santa Cruz, want computer users to think of viruses more positively. Using a healing medical model, Tuesday explains: "Viruses can act like a logic analyzer. As the virus goes through the operating system, it stops at certain checkpoints, doing its rounds in a given amount of time. This checkpoint will report back what the condition is.… Essentially the virus will serve as a means of creating a self-repairing system.… The goal is a self-repairing, crash resistant system, similar to the way our bodies repair themselves. Biologically we are the product of thousands of microorganisms cooperating together. We can apply that kind of thinking in the computer world. We are modifying the concept of a virus to serve us."
These are the same goals and methods the media viralists have. Presenting culture as a giant, interconnected organism, they hope to foster a spirit of cooperation. Using viruses to seek out the cracks or inconsistencies in existing systems, they develop a culture that repairs itself much in the way a colony of bacteria mutate to avoid extinction or an ecosystem adjusts itself to achieve homeostasis. This concept has gone far beyond the metaphorical level.
A new kind of computer virus has been appearing on the networks that does not have anything to do with programming language or crashing systems. These viruses are meant to serve as memetic devices or meme-carriers, which express themselves in the way they mutate passing from system to system, node to node. They work like the kids' game "telephone," where a message is passed around and the joy is in discovering how the message changed from person to person. When the message is a virus, though, its contents are hoped to evoke a response.
A college student on the Internet, Andy Hawks, created a meme collection he called "Futureculture." In its first incarnation, Futureculture was a large list of books, tapes, programs, Internet sites, magazines, and other media references that Hawks felt would be useful to people who were interested in developing a new viral culture based on some of the principles of cyberspace. He posted it as a file in several Internet locations so that others could reference it, make additions, and pass it further. So much interest developed in Futureculture that it grew into an open E-mail forum. Hundreds of Internet users sent mail to one another through an automatic mailing system at Hawks's Internet site. Each user received a daily compilation of all the Futureculture list additions and periodic updates of the whole, mutated file, which had expanded to several hundred pages of text. Eventually Futureculture, which began as a virus, released viruses of its own.
(…) The virus served as publicity for a new meme-zine, Virus 23, which features interviews with and articles by science fiction, psychedelic, physics, GenX, mathematics, and computer experts. The zine is designed to promote viral initiatives. Following the philosophies of William Burroughs and cult hero Genesis P-Orridge, the editors see language and culture as a series of competing viruses and believe that an uncensored forum for sometimes shocking countercultural ideas will strengthen the ability of new memes to evolve humanity. They use the number 23, made famous by occultist Aleister Crowley in the early 1900s and, more currently, P-Orridge because ancient pagan faiths associate it with change and the Apocalypse. Self-conscious and overtly viral manifestos take us into an altogether new cultural territory, where the memes of ancient shamanism are spliced together with those of futuristic cyber-technologies. This is the frontier of virus construction, and though it occurs on a highly conceptual plane it often has very palpable results."
via Futureculture, from Media Virus: Hidden Agendas In Popular Culture
:::
Virus 23 Index
#thegame23 guides:
:::
#thegame23 #adacic1033 #kstxi fnord #hashtags:
#kstxi #00AG9603 #postneoism #operationmindfix #QuantumSchizophrenia #FollowtheWhiteRabbit #fnordmegathread
:::
#thegame23 conspirators and conspiracies
Project 00AG9603 — #thegame23 level 5
Hyperstition — by Delphi Carstens
Creating meta-narratives as a hypersigil within a larger ARG scenario, for personal and societal transformation
Synchromystic Neoism Connections
KSTXI Discordian Memes Illuminati Cabal
Hyper-Surrealist Meta-Discordian Post-Neoism Conspiracies
:::
---
.
Si no puedes con ellos,
MINDFUCKÉALOS.
.
.

.
. .
. .
.
.